Printable Creations | Leave a Trail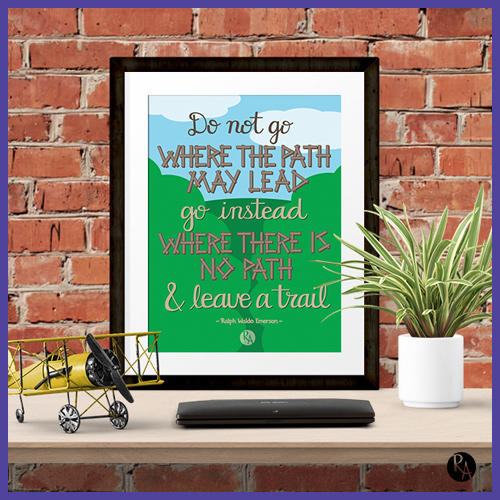 Growing up, my family would go camping all the time. We would meet up with my dad's side of the family at campgrounds and my brother, cousins and I would have a blast running around and enjoying the great outdoors. One of our favorite things to do was find areas off the path in the woods and claim them as our forts. We would use tarps and things to make a roof for our fort and then spend the afternoon having all sorts of adventures. It was so much fun. The quote for this week's Printable Creation reminded me of those camping adventures.
"Do not go where the path may lead, go instead where there is no path and leave a trail." -Ralph Waldo Emerson
This Emerson quote is also good reminder that you don't have to do what everyone else is doing. There isn't a set path everyone must follow. We are all unique people with unique sets of skills and passions. So start your own path and be you.
If you haven't see one of my Printable Creations before, here is how it works. Each week I design and post a new Printable Creation that will be available for free to my readers. You can subscribe below to get this week's and all future Printable Creations in your inbox every Wednesday.
Creating the Creation
Tools I used: blob brush, rectangle tool, ellipse tool
This week's quote really lended itself to a more illustrated background to show going where there isn't a path. I used the ellipse tool to build the bushes and clouds out of different sizes of ellipses. I used the blob brush to draw the cursive letters and the rectangle tool to build the stick letters. Since I wanted the background to be realistic colors, I then just had to figure out the best colors for the text so I went with shades of tan. It was then just a matter of choosing a color for the shadows so the text in front of the bushes would stand out from the background.
Hope you enjoy this week's printable!
---
Each Printable Creation will only be available until the next Wednesday when a new printable is posted. But the printable won't be gone forever! Once a new week rolls around and I post a new printable, the previous printable is added to my Etsy shop.
This week's Printable Creation is ready to be downloaded and decorate your desk or wall. Subscribe below!